Facilities
Kitchen
Washing machine
WiFi
LCD TV with Satellite receiver
Safe
Additional couch
Earplugs
Daily cleaning
Elevator
Site seeing excursions, taxi, air tickets
Reception is open till 23:00  (English, Czech, Russian)
Check-in 24h (on request)
Welcome to the Hotel Residence Spalena****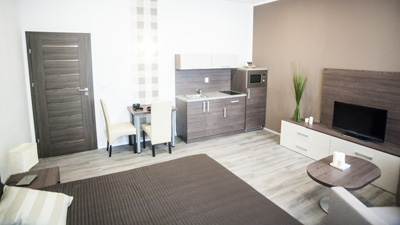 The building of the hotel is located in the heart of Prague and offers its guests a stay in its 23 contemporary and completely new rooms.
On top of usually expected amenities each room is equipped with: a kitchen corner with a stove, microwave, fridge, washing machine, additional couch, TV with satellite, free WiFi.
At your service daily cleaning, hairdryer, electric kettle, cookware.
We can help you with excursions, taxi and air tickets. Hotel reception is open from 08:00 in the morning until 23:00. Our employees speak English, Czech and Russian and are ready to help you with your requests.
The Hotel is located within 5 minutes walking distance to all major attractions of Prague. In proximity you will find the underground station Narodni Trida, tram stop, shopping mall and a great number of various cafes, restaurants, and bars. Breakfast is serviced in the nearby café. In front of the hotel you will find a public parking which is free of charge at nights and on weekends.